About Valley Auto
Jerry Johnson has been repairing cars for over 25 years and has been a certified Senior Master Technician for 18 of those! He is also a certified Advanced Level Specialist by the National Institute for Automotive Service Excellence. Steven, our oldest son, joined Jerry last year and is taking on-line classes to become certified as well. It's a family run business with Tammy as the office manager and bookkeeper, kind of like a family ranch!
Our motto is, Pride in Service, and we always try to live up to that. So give us a call and we'll see if you can stop worrying about if you can trust your auto technician again.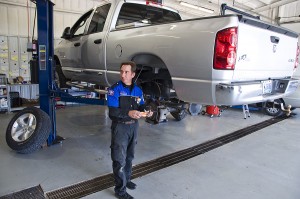 Jerry Johnson ASE certified Senior Master Technician for 18 years!